Digital ID Profiling and The Future of Credit Scoring

In a digital world, credit scoring needs to evolve – here's how.
As digital lending evolves, so does credit scoring. Today we'll see why digital identity profiling is a must and should soon become industry standard for KYC processes.
Technological advances have allowed banking transactions to be simpler, more cost-effective, and, quite simply, smaller. Over the last few years, commercial banks and the new wave of digital-only financial institutions have therefore embraced microfinancing, a sector showing a 9% annual growth for global loan portfolio and active borrowers worldwide.
There is some good and bad to it. On the one hand, it allows an increasing number of previously unbanked individuals to access financial services, particularly women in rural areas.
On the other, it opens the door to suspicious P2P micro lending techniques, some of which increasingly resemble predatory loans. It also puts digital loaners in a difficult position, specifically when it comes to managing risk.
What is a credit scoring system?
Traditionally, credit scoring calculates a score based on your financial history. The credit score, performed by various credit bureaus, will determine if you can get a loan or not.
Digital Lending and Risk
Another consequence of the increase in smaller, frictionless loaning, is that it puts lenders at risk. Fraudsters are increasingly targeting micro loan offers, using a combination of known attacks and techniques:
Identity theft: to open a new account with stolen credentials without any intention of repaying the debt.
Going AWOL: fraudsters take advantage of loaning organisation's need for frictionless experiences. They open accounts quickly, borrow, and vanish.
Account takeover: fraudsters phish for current account holder information and exploit them to borrow money for themselves.
In fact, every fraudulent dollar in a digital loan costs the lender $2.82, a much higher cost than other industries including eCommerce, retail and financial services.
Battling Multiple Forces At Play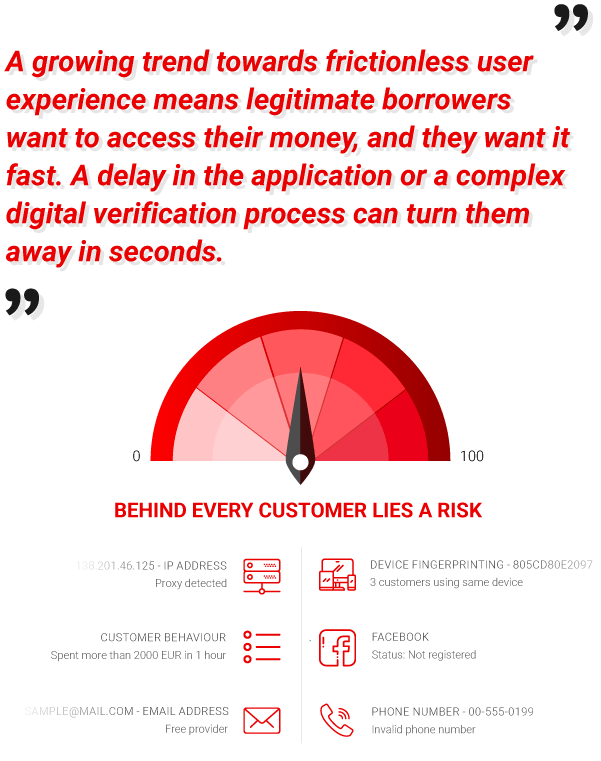 Digital lenders are therefore under increased pressure to battle fraud while trying to keep their heads above water. If they refuse a loan, there is no shortage of competitors who will happily take the risk. In China alone, micro-lending companies are growing too fast for legislators to remain in control.
But competition isn't the only challenge for lenders. A growing trend towards frictionless user experience means legitimate borrowers want to create new accounts, access their money, and they want it in no time. A delay in the application or a complex digital verification process can turn them away in seconds.
What is the most common credit scoring system?
In the US, credit scores use the FICO model. The credit score uses the 0 – 999 scale. In the UK, a credit report will be compiled by Experian, Equifax or TransUnion, and the credit score can be calculated on a scale from 0-999 or 1-5.
Digital ID profiling for Scaling KYC Processes
However, lenders may not realise it, but they are already in possession of a tremendous amount of information about their potential borrowers. In the digital world, any data point can be leveraged to paint a clear picture of who your users are.
As we've already pointed out in the previous post, you can gain a lot from aggregating the right points at the right time.
Combining these tools can give you a fantastic 360-degree view of your users, simply scaling the KYC processes you no doubt already have in place to remain compliant.
Connecting the Dots
Traditionally, credit scoring was calculated based on payment history, debt burden, requests for new credit, types of credit used and the length of the credit history. It is now called an outdated system that holds back the economy.
The question is how to redefine credit and credit scoring. Millennials distrust big banks and increasingly turn away from credit card offers, which means historical payment or credit cards data is less relevant than ever.
However, lenders can leverage the power of big data analysis to generate personal fraud scores and new credit risk models, all thanks to the power of Machine Learning.
Conclusion
Modern credit scoring must be fast, accurate, and leverage every data point it can use. It is no longer able to rely on credit history, and must instead exploit information found in big data, and powerful digital profiling tools.
And remember that it is not only a competitive advantage to improve your KYC processes while reducing fraud. Facing increasing ID verification regulations, your organisation should future-proof their business through the right fraud prevention method, whether you are in the lending vertical or any other industry operating online.
If you would like to understand the digital credit scoring process better, check out our infographics!

Florian Communication Specialist
Florian helps tech startups and global leaders organise their thoughts, find their voices, and connect with customers worldwide.
---
Sign up to our newsletter