10 Shopify Fraud Prevention Apps to Easily Secure Your Store
Shopify powers the online stores of over 1.75 million merchants in 175 different countries and its App Store is a fantastic resource for enhancing yours – especially if you need more features for your fraud and payment protection.
Shopify Fraud Prevention apps come in various packages, some of which focus on automatically reducing chargebacks, while others give you the ability to deploy a complete risk management strategy for your online store,
List of Shopify Fraud Prevention Apps
What Is Shopify Fraud?
Shopify merchants face many types of fraud that target any typical ecommerce business, such as fraudsters using stolen card details, account takeovers (ATOs), and the ever-dreaded issue of chargebacks.
A chargeback takes place whenever a customer disputes a transaction directly with their issuing bank. The issuing bank will evaluate any evidence before reassigning the chargeback expense to the merchant via the card network.
Chargebacks cost ecommerce businesses upwards of $40bn a year. Typical reasons for them include:
the item was not received by the customer
double-billing
incorrect amount charged
unrecognized purchases
customer dissatisfaction with the item(s)
malicious fraud (ATO, stolen goods)
Merchants that use Shopify Payments might see the chargeback amounts subtracted from their next payout instead of being debited from merchant account funds, in addition to the loss of inventory.
It's worth noting that Shopify is Level 1 PCI DSS compliant, which means the company already follows a level of protection through standards that include:
maintaining a vulnerability management program
actively finding and patching any vulnerabilities
monitoring and testing its network regularly
strong access control measures
an information security policy
protecting cardholder data
The opportunity for fraud also extends from merchant to customer, as fake stores on the platform are not uncommon.
In 2021, using a research pool of 124,044 stores, Fakespot estimated that almost 21% of Shopify stores are in some form fraudulent or dangerous for consumers, according to Business Insider.
10 Shopify Fraud Prevention App Reviews
Shopify merchants can add easy-to-use free upgrades as well as enterprise-grade fraud prevention products to their arsenal to maximize revenue.
Below are some of the best options available on the market today.
Disclaimer
: Everything you'll read in this article was gleaned from online research, including user reviews. We did not have time to manually test every tool. This article was last updated in
Q3 2023
. Please feel free to contact us to request an update/correction.
1
SEON
Complete End-to-End Fraud Prevention via API
October 2021 saw the launch of SEON's own Shopify fraud detection app, which uses all of our best features to help merchants fortify their business with enterprise-grade software.
The robust scoring engine helps spot potential bad orders automatically, as well as uncover fraud patterns through flexible rules. Machine learning algorithms will continue to offer recommendations to improve these rulesets, based on your business requirements.
SEON also scans 50+ digital and social signals in real-time to help verify that the person placing the order is who they say they are.
Pros
Automation
Unique real-time data
Approve more transactions
SEON Pricing
Choose SEON If
You want to stop fraud without incurring false positives so that you can complete more sales.
SEON Pros
Automation: Enterprise-grade solution redesigned for Shopify merchants that automatically approves transactions and increases your conversion rate. You can auto-cancel and refund transactions without any input needed.
Unique real-time data: Live email profiling acts as further verification on top of the machine learning engine to create better profiles of your customers.
Approve more transactions: SEON does not use a chargeback guarantee model, which means merchants will avoid false positives and accept more transactions deemed "risky" by other providers – without risking security.
SEON Cons
Separate products: At present, SEON's Shopify app packs most of the end-to-end product's capabilities but not all of them.
2
Signifyd
Chargeback Guarantee and AI
Founded by two former PayPal employees, Signifyd is an ecommerce-centric fraud prevention platform that looks to tackle the majority of the heavy lifting for merchants when it comes to anti-fraud. The firm is heavily focused on ecommerce, working with reputable brands such as Samsung, Philips, and Omega.
The platform focuses heavily on automation – a competitive advantage if your business handles masses of transactions. It also offers chargeback guarantees against Shopify fraud on approved orders that turn out to be fraudulent and item-not-received (INR) claims.
Pros
Peace of mind
Third-party data
Will cover chargebacks
Cons
Potential for more false positives
Signifyd Pricing
Contact the sales team directly for a quote.
Choose Signifyd If
You prefer a set-and-forget solution to your fraud concerns.
Signifyd Pros
Peace of mind: Signifyd automatically reviews the order and informs you whether to ship it or not, with its own manual review process offering more insight into orders without input from the merchant until necessary approval.
Third-party data: Signifyd's machine learning algorithm leverages data from third parties to approve good orders faster than merchants who might typically review manually.
Will cover chargebacks: It takes the liability off merchants' shoulders through a chargeback guarantee.
Signifyd Cons
3
ClearSale
Automated Decision Making
ClearSale helps over 6,000 merchants manage their risk and fraud levels across more than 160 countries. The company has offices in Brazil, the US, and Mexico.
ClearSale combines machine learning technology with a large in-house analyst team that reviews transactions that have been flagged by the system, without the Shopify merchant's input.
It offers a chargeback guarantee and a proprietary protection scheme to balance business key performance indicators (KPIs) with what it delivers. This means that if targets are not met, your business will receive a discount.
Pros
Protection schemes
Consultancy services
Extra intel available
ClearSale Pricing
Choose ClearSale If
You value automation and want to receive discounts if it works against your KPIs and chargeback ratio.
ClearSale Pros
Protection schemes: Chargeback guarantee and protection schemes are both in place to protect merchants against Shopify fraud.
Consultancy services: An in-house team combined with automated decision-making lets merchants focus on their core business rather than worrying about risk and fraud.
Extra intel available: ClearSale offers analysis on aspects beyond fraud, such as a Shopify store's most profitable products, most valued customers, and target market analysis.
ClearSale Cons
America-focused: Because this company primarily targets the Latin American and North American markets, it is not as likely to address new EU legislation and other markets' particularities as fast as some other vendors.
4
Kount
Shopping Trend Analysis and Chargeback Guarantee
Kount is a US-headquartered fraud prevention company with an AI network that is built on risk signals from over 32 billion annual interactions globally. Similar to ClearSale, the company has built its tech with ecommerce merchants in mind.
The Kount Command product is available for Shopify merchants, automating the process of the approval or decline of orders based on the merchant's requirements.
Pros
Customization
Real-time data
Chargeback guarantee
Cons
Chargeback guarantee (we explain below why it is a con too)
Kount Pricing
Choose Kount If
You run a US-based or Latin America-based store and would appreciate a chargeback guarantee model.
Kount Pros
Customization: Kount allows merchants to customize their ruleset to their requirements, with analysis from both macro trends and individual transactions.
Real-time data: The company calculates risk through a fraud scoring system based on data from 32 billion annual interactions and in real-time.
Chargeback guarantee: Kount offers a chargeback guarantee to help automate risk decisioning and lift the burden of Shopify fraud off merchants.
Kount Cons
Chargeback guarantee: The chargeback guarantee is both a pro and a con, as it is likely to block those suspicious-but-not-quite-certain customers, thus resulting in false positives.
5
Sift
Automatic Transaction Reviews
Another enterprise-grade fraud detection solution is Sift, which works with companies including Wayfair, StitchFix, Harry's, and Everlane.
All customer data, from account creation to login and the order itself, is automatically sent to Sift, which then analyzes the data provided with its machine learning technology and insight from its own proprietary global data networks.
With added insights from Sift's global data network, the company's machine learning models deliver accurate risk assessments with the aim of enabling Shopify merchants to confidently block and accept orders or route cases to manual review based on their individual business processes and priorities.
Pros
Artificial intelligence
Global merchant network
Dedicated dispute management
Sift Pricing
No pricing information is available online for Sift.
Choose Sift If
You're an established Shopify merchant who needs a convenient platform to manage disputes.
Sift Pros
Artificial intelligence: On offer is blackbox machine learning with the availability of custom models to automate transaction reviews. You can also manually review orders if needed.
Global merchant network: Real-time risk scoring based on over 16,000 signals and a global data network of 34,000+ merchants.
Dedicated dispute management: Sift offers a specific Dispute Management module that focuses on the issue of chargebacks specifically. It aims to both prevent and win disputes by automatically selecting evidence based on the industry and the chargeback reason code.
Sift Cons
Opaque decisioning: Because the AI employed by Sift is blackbox, you will not know the exact reasons why someone has been blocked, and thus will not be able to catch false positives as easily or train it to avoid them.
6
NoFraud
High-Volume Chargeback Guarantee
NoFraud is a Shopify-centric company that offers a fully automated product that is managed in-house, with no input from the merchants.
Transactions are sent to NoFraud once an order has been placed, and it then provides a basic actionable response with no risk score – just a pass or fail metric from NoFraud's side.
Users can manually review orders that are deemed a "failure" but can also automatically cancel the order – which could lead to an increase in false positives.
Pros
Flexible reviews
Chargeback guarantee, with a caveat
Welcome freebies
NoFraud Pricing
You pay only for orders NoFraud approves.
Choose NoFraud If
You want a solution built with Shopify in mind by a vendor who manages it for you.
NoFraud Pros
Flexible reviews: Flexible review process, including payment method preferences with merchant-managed settings, and red and green lists.
Chargeback guarantee – with a caveat: NoFraud does offer a chargeback guarantee solution to cover any Shopify fraud costs. However, a minimum volume of 50K in monthly sales is required for eligibility.
Welcome freebies: There are no setup fees or long-term contracts. Free technical support is available.
NoFraud Cons
False positives: Some reviewers have mentioned more false positives than expected, though we could not test this ourselves.
7
FraudLabs Pro
SMS Verification and Custom Rulesets
FraudLabs Pro supports merchants in identifying high-risk transactions and reducing chargeback with its free-to-use fraud screening process.
The company automatically flags any orders it deems high risk and automatically emails the customer if their order was canceled. This creates a type of due diligence but also gives the customer an opportunity to walk away from the business, which is not ideal.
Their fraud prevention module also supports an SMS verification add-on to authenticate the purchaser's identity for the merchants.
Pros
Customizable
Automated workflows
Two-factor authentication (2FA) built-in
FraudLabs Pro Pricing
Tier-based pricing ranges from 500 queries per month for free and up to 500,000 queries per month for $1,249.95.
Choose FraudLabs If
You want fraud prevention with 2FA integration built-in.
FraudLabs Pro Pros
Customizable: Create your own custom ruleset using more than 50 different metrics, such as IP geolocation, proxy, email validity, credit card data, transaction velocity, and more.
Automated workflows: Automate both high-risk order cancellations and notifications to users.
2FA built-in: The software offers SMS verification for orders as part of a multi-factor authentication (MFA) approach.
FraudLabs Pro Cons
Difficult to set up: Some customers report difficulty in initial setup and a steeper than expected learning curve.
8
Chargeflow
Automated Chargeback Management
Sometimes, you want to understand the reasons behind your chargebacks, dispute them, and win them yourself. But for some Shopify store owners, it's also worth paying a bit more to let someone else deal with the headache.
This is precisely what Chargeflow is designed to do. This app is completely automated and integrates seamlessly with your Shopify store, so you can set and forget it. It will identify chargebacks, give you a full dashboard to analyze chargebacks from multiple payment providers, and assist you with disputes.
Bonus points: Chargeflow integrates with other third-party tools, including SEON Fraud Protection, AfterPay, Braintree, and more.
Pros
Manageable return on investment (ROI)
Chargeback prevention and management
Cons
High fee
Few customization options
Chargeflow Pricing:
It's free to install. You'll be charged a 25% fee for every successfully recovered chargeback.
Choose Chargeflow If
You want a set-and-forget approach to dealing with chargebacks, and you don't mind paying 25% to recover your losses.
Chargeflow Pros:
Manageable ROI: You only pay for the cases that are won.
Chargeback prevention and management: You can identify chargebacks and enter the dispute directly from Chargeflow's backend.
Chargeflow Cons:
High fee: Chargeflow takes a 25% cut on resolved cases, which isn't cheap.
Few customization options: Chargeflow isn't designed for shop owners who want to control chargeback rates manually through risk scoring.
9
FraudBlock
Set-and-Forget Prevention for High-Risk Orders
Another solution designed to work straight out of the box and with a set-and-forget approach is FraudBlock. The idea is simple: you install the app, and FraudBlock will automatically cancel high-risk orders.
What FraudBlock deems high risk, however, isn't manually customizable. You won't have access to many options to calculate the risk score, but you can consider it an extra layer of protection that saves you from accidentally fulfilling fraudulent orders.
FraudBlock has a completely free plan for 30 orders or fewer per month, and the paid plans are affordable, starting at $4.95 (for 200 orders) all the way to $29.95 for 500 orders.
Cons
Basic tool
Less control than other tools
FraudBlock Pricing:
Free for 30 orders or fewer per month. Sliding scale from $4.95 for 200 orders all the way up to $29.95 for 500 orders.
Choose FraudBlock If
You process fewer than 30 orders per month and want a free layer of protection for your Shopify store.
FraudBlock Pros:
Set and forget: You add FraudBlock to your store, and that's it.
Free plan: FraudBlock is free if you process fewer than 30 orders per month.
FraudBlock Cons:
Basic tool: You can enable FraudBlock, disable it, and that's pretty much it.
Less control than other tools: If you want to understand what causes a chargeback or high-risk order and manage them yourself, you should look elsewhere.
10
FraudJudge
Focus on ID Verification
While some Shopify store owners want to decrease friction to make payments as fast and smooth as possible, others might be frustrated by chargebacks from guest checkouts. This is exactly why FraudJudge lets you check customers by requesting ID verification before placing an order.
You can choose to let shoppers verify their addresses and even submit an ID to validate the purchase. This is also a powerful tool to check your customers' ages and to avoid possible legal issues.
FraudJudge is free to install and you pay a small fee on each checked order: $0.03 per order and $0.5 per data verification request after the first 10 requests.
Cons
No automatic validation for IDs
Not fraudster-proof
FraudJudge Pricing:
It costs $0.03 per order and $0.5 per data verification request after the first 10 free requests. You can pay $20 per month for unlimited order and ID verification checks.
Choose FraudJudge If
You want affordable ID verification for your Shopify store.
FraudJudge Pros:
Verify IDs: Enables document upload for age and ID verification
Check ages: FraudJudge is also helpful in ensuring you don't sell inappropriate items to minors.
FraudJudge Cons:
Doesn't automatically validate IDs. You still need to check them yourself manually.
Not fraudster-proof: if someone falsifies an ID, it's up to you to flag it.
What Is the Shopify Fraud Protect App?
Shopify's Fraud Protect solution looks to automate order screening and chargeback disputes by classing transactions as either "protected" or "not protected".
It also offers a fraud analysis solution for basic plan merchants that enables you to see certain indicators and plug in third-party tools, some of which are free. Those on a higher plan can also see automated fraud detection recommendations.
For merchants with lower levels of transactions and operating in markets with less fraudulent activity, this product is perfect for your business as it offers a clear insight into your orders and provides actionable results. However, adding an extra layer of defense can ultimately help maximize revenue opportunities.
Only Shopify Payments users can access the Fraud Protect solution. Online orders processed through PayPal or another point-of-sale solution cannot be tracked with this product.
How Does It Work?
The Fraud Protect solution operates similarly to a chargeback guarantee. The merchant pays a fee on each protected order, and Shopify covers any costs/reimbursements and handles the chargeback process.
It can detect obvious signs of fraud, such as proxy usage, large numbers of attempts, and disparities between billing and shipping addresses. However, more complex cases of Shopify fraud can easily be missed due to its lack of specialization.
Those transactions that are deemed "unprotected" and assessed as being somewhat suspicious will have to undergo manual review for inspection, with no real support on why the transaction may be illegitimate.
As well as this, chargeback guarantee models can often harm your revenue because there's an obvious conflict of interest: They want to keep the levels of risk low, but the merchants themselves want to safely sell to as many customers as possible. High false-positive rates can lead to reputational and customer loyalty issues.
Shopify Fraud Protect's chargeback guarantee model is fine for most merchants but involves a much lower risk appetite – meaning what you may save in chargeback costs, you might lose in missed revenue from good users who were unfairly deemed too risky!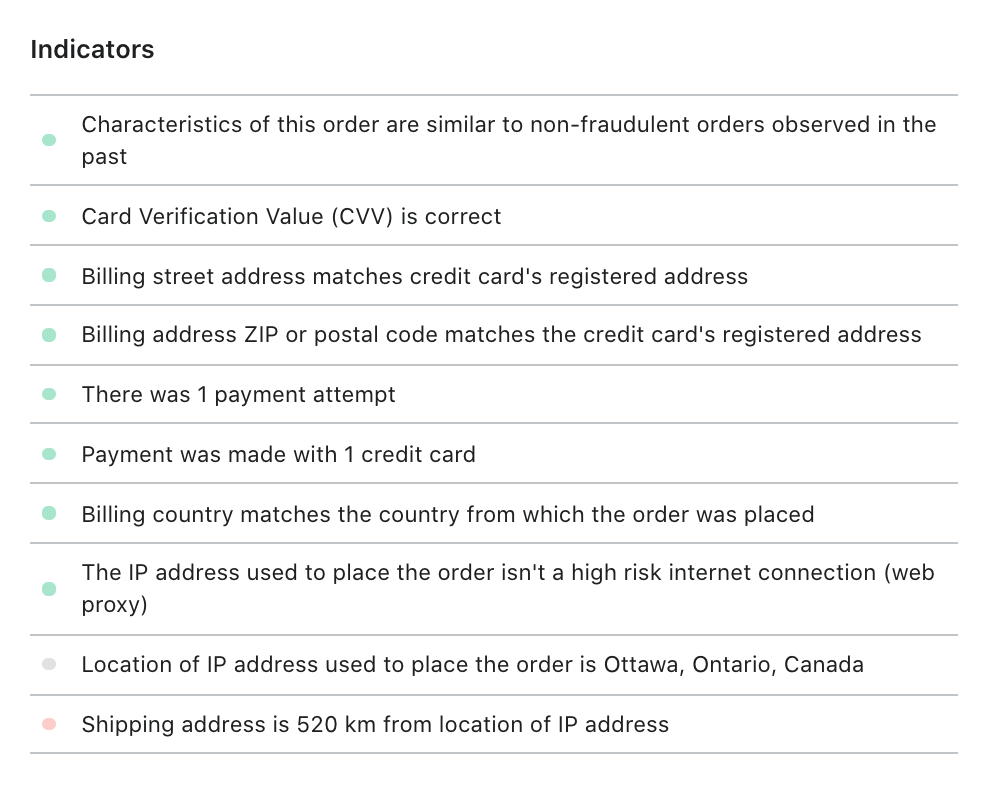 Tips to Protect Against Shopify Chargebacks
In order to protect yourself against Shopify chargebacks, there are certain measures that merchants can take even before any intervention from anti-fraud products. These safeguards include:
strong communication with customers about policies, potential delivery dates, and delays
quick responses to complaints
investigating suspicious orders before anything is processed
ensuring photos and descriptions are accurate
making billing statements clear and easily recognizable
use of e-receipts
FAQs
How does Shopify protect against fraud?
Shopify has its own fraud prevention service, which you can download for free in the app store. It offers basic chargeback prevention based on the company's internal knowledge. However, it offers no flexibility or transparency. You may find some of your orders are blocked with no explanation, which is why third-party fraud prevention tools are highly recommended.
Is the Shopify Fraud Protect App right for my business?
If your business is looking for a secure anti-fraud solution that will remove most cases of fraud, then yes. However, to maximize profits, it is recommended to look at other options that will minimize the risk of false positives, enabling you to safely sell to more people.
What types of chargebacks am I protected against?
This depends on your choice of solution. Companies offering a chargeback guarantee cover the costs. However, this can entail a conflict of interest, as it is in these anti-fraud companies' interest to play it safer in order to minimize costs. Alternative solutions will look to spot potential fraudsters before the transaction is completed.
Does Shopify protect sellers from fraud?
Yes, up to a point. You get basic chargeback prevention (where Shopify blocks a payment if it appears suspicious). However, Shopify offers no flexibility or transparency in understanding why a payment was blocked.
How do I report fraud to Shopify?
To report a fraudulent order, you need to locate the order page and click More Actions. Select Cancel, and you will be able to select Fraudulent Order as a reason for cancelation. This does not mean you will get your money back, however.
Sources in this article
Comparisons
Showing all with `` tag
SEON Team
---
Sign up for our newsletter
The top stories of the month delivered straight to your inbox