Your Guide to Prevent and Handle Shopify Chargebacks in 2023
Shopify chargebacks are never a pleasant surprise. Let's find out how to handle them within the platform and prevent them from happening in the first place with third-party chargeback and fraud tools.
What Is a Shopify Chargeback?
A Shopify chargeback is what happens when a cardholder has an issue with a payment made on your Shopify store. Their bank will make an inquiry and ask you to refund the full amount.
As a merchant, you will also have to pay an admin fee to Shopify, called a chargeback fee. And you may also be required to pay more processing charges, directly to issuers – depending on who handles your payments.
Chargebacks in general are devastating for online stores and, because of associated costs, their real value can be as high as 2.60x the cost of the lost merchandise.
At best, you may enter a chargeback dispute process, which is time-consuming and complex. At worst, you will lose a sale, fail to recover the item, and pay the admin and other processing fees out of pocket.
Your reputation may also take a toll, especially if the legitimate shopper blames you for accepting the fraudulent charge in the first place.
Working with Shopify is no different, as the ecommerce platform will pass on the cost of a chargeback to its users. In other words, it does not offer a chargeback recovery service, whether you rely on Shopify payments or an alternative payment gateway.
In fact, this is the disclaimer they share to do with chargebacks:
So it is up to you as a merchant to protect your business from chargebacks.
How Much Is the Shopify Chargeback Fee?
The admin fee you have to pay to Shopify on top of issuing a chargeback varies depending on your country or region. At the time of writing, it is set at the below.
Do keep in mind that there could be even more, additional charges, paid directly to third parties.
25 AUD in Australia
15 CAD in Canada
15 EUR in Austria, Denmark, France, Germany, Italy, the Netherlands, Belgium, and Spain
15 EUR + 23% VAT in Ireland
85 HKD in Hong Kong SAR
1,300 JPY in Japan
20 NZD in New Zealand
15 SGD in Singapore
15 EUR or 150 SEK in Sweden, based on payout currency
10 GBP in the United Kingdom
15 USD in the United States
The Main Causes of Shopify Chargebacks
Here are the main reasons you're likely to receive a chargeback request for your Shopify store.
Merchant error: You accidentally shipped the wrong item, forgot to apply a discount, or made a mistake when describing or listing your product or service.

Disgruntled customer: While an unhappy customer should normally contact you for a refund for anything they're unhappy about, some go straight to the chargeback request process.

Unauthorized payments: This is also known as family fraud, as it usually happens when family members, such as children or dependents, purchase on Shopify without authorization.
Then, there is the problem of fraud. This is divided into two key categories:
Obvious fraud: The credit card number was stolen by fraudsters (or more likely acquired on the dark web) and the legitimate cardholder is requesting their funds back. This is what the chargeback system was put in place for – to increase trust in card-not-present payments, including online.

Friendly fraud: This also goes by the name of chargeback abuse or liar buyer, and it happens when the legitimate cardholder makes an illegitimate chargeback request. For instance, they may lie about the quality of the item, or whether they ever received it.
Friendly fraud is particularly challenging to fight back against because you have to prove a customer's bad intent.
How Do Shopify Chargebacks Affect Your Online Retail Business?
Shopify chargebacks can have a dramatically negative impact on your online store. You will:
pay a chargeback admin fee to Shopify
potentially pay additional fees to payment processors or issuer banks
waste time with the dispute and resolution process
often lose an item and a sale
potentially suffer hits to your reputation
To make matters worse, if your chargeback rate is too high, you may start having to pay an increased transaction fee on every single payment. In fact, it is even possible for merchants who incur too many chargebacks to get blacklisted, in which case they cannot accept cards of that type any more (e.g. Visa payments).
This is precisely what happens to high-risk retailers who experience chargeback rates above the chargeback ratio threshold (this number varies between 1–3% depending on the card network).
Last but not least, trying to prevent chargebacks may also backfire.
You could be too vigilant with payments, which might add friction at the checkout stage and create customer churn. In other words, by adding too many obstacles to verify a credit card, you could be turning your good customers away.
How to Avoid Shopify Chargebacks
Before looking at purpose-built Shopify chargeback apps, let's first start with some housekeeping. The following steps are designed to avoid chargebacks from disgruntled customers.
Set up order-tracking workflows: Letting your customers know where their packages are at all times can save a lot of hassle in the long run.

Be prompt about shipping: Research from Kount shows that 45% of chargeback requests stem from a delay in delivery.

Double down on your customer service: Communication goes a long in smoothing out problems for your Shopify store, and helping with the chargeback process is no exception – especially since a refund is always less of a loss than a chargeback.

Rewrite your store policies: This step is about setting up customer expectations. You should have the terms and conditions available in clear, simple writing to avoid miscommunication with your customers.

Spend more time on your product descriptions: Another way to avoid misunderstandings with your clientele.
Last but not least, we should address how Shopify offers a few out-of-the-box options to help with fraud and chargeback detection – and what these can and can't do for a merchant.
Shopify Chargeback Prevention Solutions
If you're struggling to fight chargebacks on Shopify, the good news is that there is no shortage of specialist tools available directly on the Shopify App Store.
Here is how the best ones work:
Gathering user data, such as an IP address, email, or phone number.
This data can be enriched to tell us more about the shopper.
The resulting data points are fed through risk rules.
The rules help calculate a score that reflects how risky the transaction is.
Depending on this, the merchant can – automatically or manually – accept or reject the sale.
Note that the quality of the data you get is key here. Some providers will rely on blacklists and shared databases to check who and what was previously considered risky. Others will work with the freshest real-time data, such as social media accounts, email breaches and online accounts.
The goal, of course, is to automatically accept low-risk payments, decline high-risk payments, and manually review medium-risk payments. You should adjust the thresholds for what is considered safe based on your own risk appetite.
It's also worth mentioning that Shop Pay users can activate Shopify Protect free of charge. Unfortunately, at the time of writing, it is only available in certain locations – plus, to the best of our knowledge, it relies on shared databases to decide who is likely to be a fraudster or not, a practice that often creates high rates of false positives and fails to catch the most sophisticated payment fraudsters.
How to Deal with Shopify Chargeback Disputes in your Store
The good news is that Shopify has a basic process in place to deal with chargebacks. Note, however, that it varies depending on whether you use Shopify Payments or not. Let's take a look.
For Shopify Payments users, you can go to your Shopify admin panel and:
view and add evidence
manage your chargeback inquiries
If you use another payment system, the process will be similar but you'll have to deal directly with the card network operator (Visa, Mastercard, Amex).
It's a convoluted procedure that may require your continued attention for up to a month, depending on the amount of back and forth during the dispute – and is not always certain to lead to a chargeback recovery, either.
However, the Shopify App Store also lets you work with third-party chargeback mitigation tools to help smooth the dispute process.
An app like Chargeflow, for instance, can help you solve more disputes by guiding you through all the steps of the process. More importantly, it's fully automated so you can keep your chargeback recovery tool running on auto-pilot while you focus on other areas of your online store.
The key point to emphasize is that regardless of how you fight the chargeback, having as much customer and transaction data as possible is crucial.
This will help you present the right evidence during the dispute, demonstrating that you, as the merchant, followed best practice and did everything as expected – or even that the shopper has been dishonest. This evidence could include:
tracking emails with the date dispatched
an AVS and CVV match
information about the particular shopping session
social media photos showing the user with your item
IP address information
etc.
Having a fraud prevention system in place before a chargeback can go a long way. This way, you'll be automatically collecting data that will come in handy when it comes to making your case.
How SEON Can Protect Against Shopify Chargebacks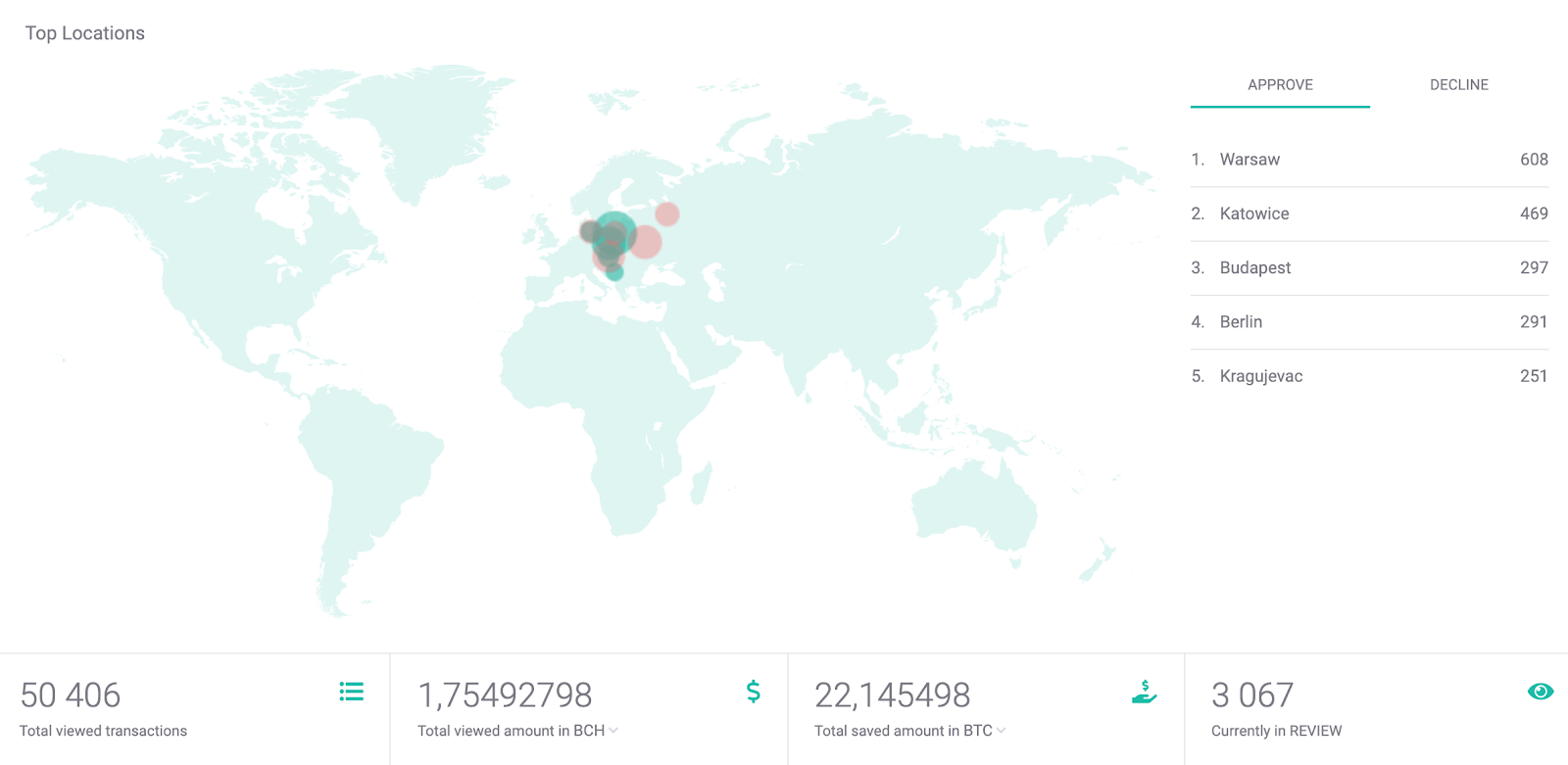 SEON is a full end-to-end fraud prevention platform, loved by digital-focused brands like Panini, Sorare, Afterpay, Patreon, and Revolut. We have also released a Shopify app that taps directly into our sophisticated transaction risk scoring system to help you:
automatically decline suspicious transactions and users
automatically accept payment from safe customers
manually review medium-level risk with confidence
receive alerts in real-time
keep the checkout experience frictionless
This means that a significant portion of fraudsters are blocked from transacting. As a result, fewer chargebacks will be requested.
But, in any case, all the data used to calculate a risk score is available should you later need to dispute a Shopify chargeback. Of course, you have complete control over the risk thresholds throughout.
Shopify Fraud Detection & Chargeback Solution
SEON is an early fraud detection tool that helps you catch fraudsters before they can harm your business.
Learn how
Frequently Asked Questions
Does Shopify protect from chargebacks?
Shopify Pay users can activate Shopify Protect (in the US only). But there are third-party chargeback protection apps available on the Shopify App Store.
What does chargeback mean on Shopify?
A chargeback happens when a cardholder asks their bank, rather than the merchant directly, for a refund of the money they paid for an order. This can be because they don't recognize the payment, aren't satisfied with your service, or had their card used without authorization – to list just two examples.
How do you win a chargeback on Shopify?
The key to winning chargeback disputes on Shopify is to be always collecting as much data as possible about each transaction, customer, and shipping process. You might need to present evidence such as their IP address, social media profiles, or your email communications to win a dispute, too.
Sources
Kount: Data shows digital payment opportunities and chargeback risks in 2021
Relevant Articles
Sign up to download
In order to download this PDF, please sign up to our newsletter.
Thanks for submitting the form, click the button below to download our guide.
Click the button below to download our guide.