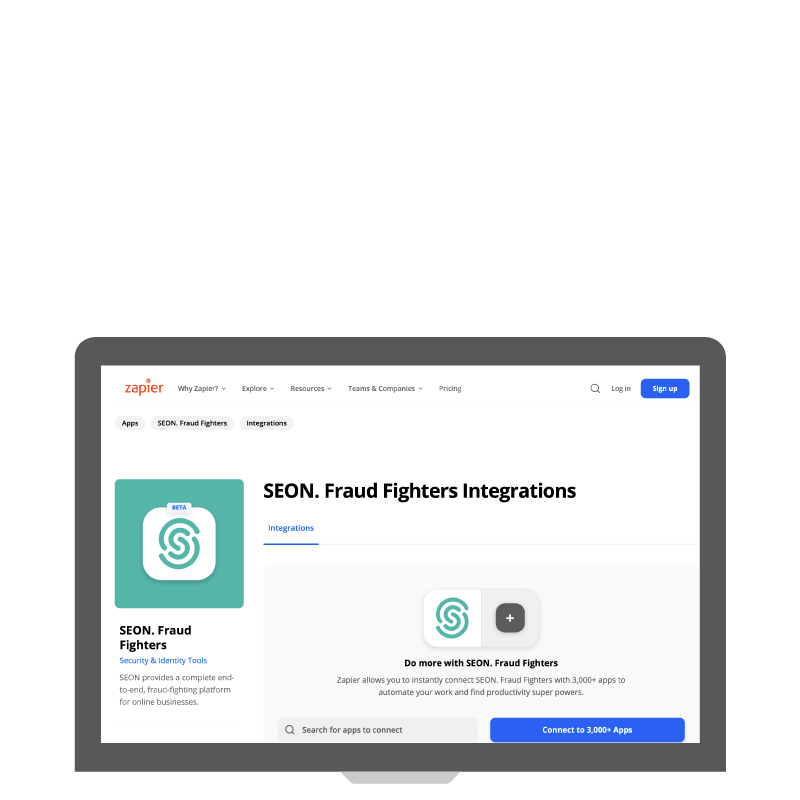 Connect SEON to 3000+ Apps With a Zapier Integration
You can now trigger instant actions between the most popular web apps and SEON via a Zapier integration.
One of the goals of SEON was always to be a one-stop-shop for all your fraud prevention needs.
Realistically, of course, you cannot run software in a vacuum, especially in today's interconnected world of business apps.
This is why we're excited to announce that SEON is now part of the Zapier family. 
You'll be able to connect your fraud prevention with 3000+ of the most popular apps in the world, such as Slack, Google Sheets or Gmail, all via a no-code Zapier integration.
Productivity Boost
While some of our clients already integrate SEON seamlessly into their business workflow, we wanted to make sure you have full control over your productivity.
A SEON and Zapier integration will help automate repetitive tasks with zero coding knowledge, and without the need for developers to build an integration.
You will be able to save time using our pre-built Zaps, which is the name Zapier gives to its integrations. You will also be able to write your own Zaps directly from the SEON app on Zapier.
The Basics of SEON and Zapier
The first thing to note is that you'll need a SEON license key to get started.
Now, in Zapier, each Zap consists of a trigger and one or more actions. When you turn your Zap on, the action will run automatically every single time, without the need for you to do anything.
When you first set up a Zap using SEON, you will be able to test it using sample data. You can also change the interval at which Zapier checks for new triggers (note that this varies depending on your pricing plan).
What Apps Work With Zapier?
There are currently more than 3,000 apps you can integrate into your automation with Zapier. The most famous ones include Gmail, Slack, Trello, and Twitter.
The apps are listed in 13 different business categories, including whole families of apps from Amazon, Facebook, Google, Microsoft, WordPress, Zoho and Zapier's own.
Other categories include Business Intelligence (to connect with analytics, dashboard and review apps (such as G2 crowd); Marketing (such as ActiveCampaign, GetResponse or HubSpot); and Sales and CRM (apps such as Typeform, Calendly, and Salesforce).
Example of Zaps Using SEON
Let's start with a concrete example that can apply to numerous use cases: a trigger based on a score.
First Example
The first step will be to define the risk score interval that's worth focusing on for you. We'll set it above 9 / 10, based on the new user signups.
This would imply that the user is very high risk, but you still want to double-check it manually. In this case, you'll get a Slack notification immediately.
Second Example
Reviewing a transaction based on the label.
Now let's say you have a custom label in SEON for transactions that were declined due to AML risk. You want to keep that data for review and further investigation so you want the Zapier integration to send it to a Trello card.
Third Example
Someone marked themselves for self-exclusion on your gambling site. You want that user data to be saved in a Google Sheet.
How to Get Started with SEON and Zapier
You'll need both a license key from your SEON account and a Zapier monthly subscription. There is a free plan that includes 100 tasks per month, and you can upgrade to higher plans for more tasks, access to premium apps, and multi-step zaps.
Zapier lets you enrol in a free 14-day trial of the Professional plan to test the premium features. Similarly, SEON gives you a free 30-day trial to test the anti-fraud features with your own business data in a sandbox environment.
Custom Integrations: The Sky's the Limit
At the time of writing, SEON and Zapier provide a handful of triggers that should be flexible enough to build powerful automation.
But of course, we will keep releasing new triggers, actions and examples – based on your feedback and industry-specific needs.
Thanks to Zapier, there is no limit to the kind of productivity hacks and shortcuts you can create – to fight fraud with complete control and flexibility.
---
Sign up for our newsletter
The top stories of the month delivered straight to your inbox