ClearSale Alternatives & Competitors
January 31, 2022
Fraud prevention veteran ClearSale is a Brazilian powerhouse that needs no introduction to those familiar with the sector.
Known for its seamless integration with the most widely used online shop management platforms, it promises to cut down on fraud, bonus abuse, and chargebacks.
But what else is out there that could provide a good alternative?
Disclaimer: Everything you'll read below about the companies mentioned in this article was gleaned from online research, including user reviews. We did not have time to manually test every tool. However, we ensured the information was correct as of spring 2022. Please feel free to contact us to request an update/correction. Images have been sourced from review sites.
Best ClearSale Alternatives
Company
Core Features
Notable Clients
Summary
SEON
• digital profiling
• whitebox transaction monitoring
• PSD2 compliance
• email, IP + phone data enrichment analysis
• advanced device fingerprinting
Nubank, Air France, Kindred
Frictionless, in-depth customer profiling and flexible rules with ML insights
Sift
• IP, email + phone analysis
• device fingerprinting
• identity and address verification
• OTPs
• biometric authentication
Doordash, Hello Fresh, Zoosk
Single solution product to cover all AML concerns
Signifyd
• chargeback guarantee
• IP, email + phone analysis
• big data analysis
• blackbox AI transaction monitoring
• identity and address verification
Samsung, Toys"R"Us, Birkenstock
Chargeback guarantee and automated actions
Riskified
• chargeback guarantee
• user authentication
• behavioral analytics
• data visualization
• customizable rules
Revolve, Wish, Gymshark
Authentication capabilities and chargeback guarantee
Forter




• behavior analytics
• 850 million person database
• targets bonus abuse
• PSD2 compliance
• full automation
Priceline, Fiverr, Deckers
Ecommerce fraud prevention promises to reduce false positives
Kount
• custom rules
• MFA available
• chargeback guarantee
• 32 billion user interactions per year
• database policy & practice advice
New Balance, Staples, Wyze Labs
Strong & secure end-to-end fraud platform
What Does ClearSale Offer?
Founded in Brazil, ClearSale is one of the most prominent Latin American B2B tech companies, having earned itself a respectable clientele since its 2001 establishment.
The focus is on ecommerce, as the solutions support all major shop management platforms, such as Shopify, Magento, Magento 2, Volusion, WooCommerce and Shift4Shop.
Among ClearSale's 5000+ clients in 160+ countries is OfficeMax, Wish, Revolve and Motorola, who also enjoy around-the-clock support in four languages: English, Portuguese, Spanish and Chinese.
In terms of the underlying technology, this anti-fraud vendor utilizes device fingerprinting and IP analysis and behavior tracking, while merchants can enjoy full automation, thanks to the scoring engine as well as ClearSale's in-house manual review team – ideal for merchants who do not have the knowledge or capacity to review themselves.
According to reports, ClearSale offers two pricing models: Total Protection and Total Guaranteed Protection. The former guarantees it will reach your KPIs (as defined and agreed in tandem with ClearSale), while the latter is what the industry more commonly refers to as a chargeback guarantee model.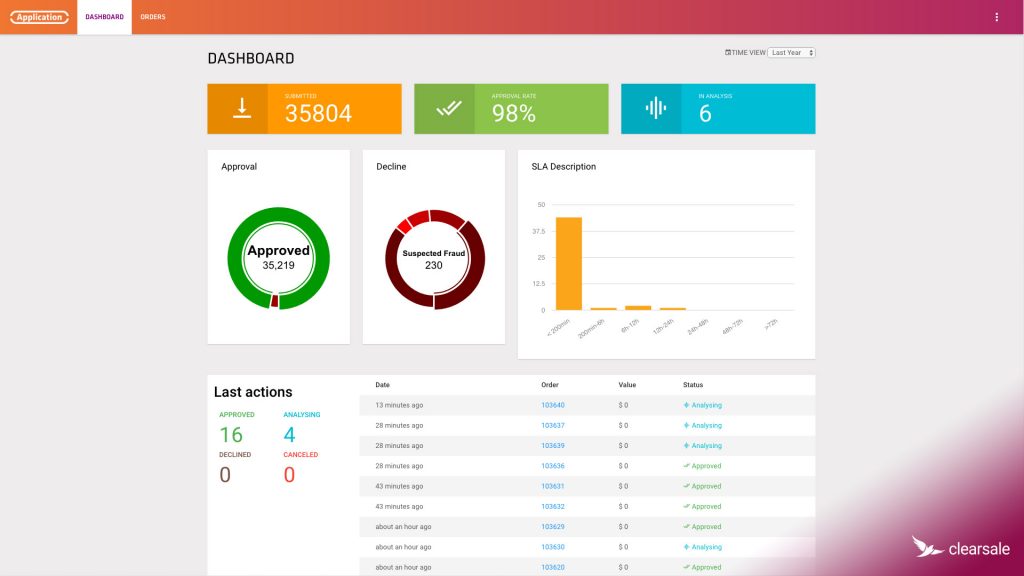 Why Look for a ClearSale Alternative?
The reasons why someone might be looking for a ClearSale alternative vary.
For example, as we mentioned above, ClearSale employs its own manual review team to help its customers. According to the official website, 91% of transactions are approved automatically.
This, however, means that 9% are not approved automatically and are either blocked or sent to the team. Indeed, existing customers say that manual clearance can take up to 48 hours.
At this point, long queues can form depending on workload, to shoppers' dismay – plus, 9% of one's transactions can be a lot. Besides this concern, reviewers would wish for more transparency in pricing and in decision-making.
Especially in instant delivery, digital goods, and other high-risk industries, this makes them less than ideal. The chargeback guarantee model is also too conservative for some markets, thus creating more risk of false declines.
The above shortcomings are not relevant to everyone. Nevertheless, they can motivate some to look into ClearSale alternatives.
Six ClearSale Alternatives
You can explore our six recommended ClearSale alternatives below but remember: There is no one-size-fits-all when it comes to fraud prevention.
Any given solution could be perfect for the needs of one company but not work for another so, start by trying to identify the one that works for your particular needs.
SEON
Features & Use Cases
With offices in Budapest, London, Austin and Jakarta, SEON is a fraud fighting company with global presence and a focus on innovation.
It was established in 2018 by Tamas Kadar and Bence Jendruszak, who felt there wasn't anything out there that covered their own fraud prevention needs and decided to set off on a mission to develop it themselves.
SEON's latest round of funding raised $12 million in 2012. It serves customers in various verticals, including ecommerce, ticketing and travel, banking and fintech, lending, BNPL, and iGaming – such as FairMoney, Patreon, Buffered, and Air France.
At the heart of the SEON platform is the technology that works behind the scenes to gather as much information as possible about a shopper without disrupting their experience. This is done by looking at their IP address, device and browser profile, their behavior and other aspects.
To this, SEON's data enrichment module adds dozens of useful data points gleaned from the customer's digital footprint: their public presence on 35+ online platforms and social networks as linked to the email address and/or phone number they provided when creating an account.
Because of this, SEON boasts the ability to both deliver accurate, real-time results based on live data as well as do so without any friction, minimizing customer churn.
In terms of negatives mentioned by reviewers, some would like to see improvements to documentation, though they point out that customer service helped clear their doubts.
Sift
Features & Use Cases
Offering the popular Digital Trust & Safety Suite of products, Sift has positioned itself well in the fraud management sector since 2011, when it was incorporated using funding from Y Combinator.
This American company counts among its customers Hello Fresh, Skillshare, McDonalds, Airbnb, and several more household names. The industries served by the brand's software include fintech, F&B, retail, on-demand services and travel/transportation.
When it comes to the products, Payment Protection, Content Integrity, Account Defense and Dispute Management are all standalone solutions that can combine into the aforementioned Suite to provide end-to-end fraud protection and payment management.
This includes common and less common attacks and scams such as friendly fraud, chargebacks, promo/bonus abuse, account takeovers, stolen/fake IDs and so on.
Approximately 5 million fraud decisions are made by Sift every month, to then be collected and analyzed as a point of reference utilized by the entire network of customers it serves.
However, as pointed out by customers, there are some issues with how Sift's individual solutions integrate into existing/legacy stacks, which works against the benefits of offering standalone products.
Signifyd
Features & Use Cases
Rajesh Ramanand and Michael Liberty are the two men who, back in 2011, co-founded Signifyd, an enterprise-grade fraud solutions provider.
A little over ten years later, the company serves major clients in the ecommerce sector, such as Hot Topic, Maplin, the Emma mattress company, and Au Vodka.
In fact, Signifyd officially claims to be "the #1 commerce protection platform to the top 1000 e-tailers" – so it could be a good ClearSale alternative for online merchants.
Headquartered in New York, Signifyd also has R&D offices in Belfast, from where much of its technology originates, known to provide high levels of automation and full PSD2 compliance.
Features on offer include chargeback recovery, claim resolution, return abuse prevention, and many other popular concerns from digital retailers' list of pain points.
Also important to mention is the chargeback guarantee model followed by Signifyd, which means they will themselves pay any chargebacks that do slip through the cracks.
This is convenient to some but it does come with a catch: Such a vendor will likely err on the side of caution, to avoid having to make such payments.
As a result, they might cause more false positives than is ideal, blocking legitimate shoppers from completing transactions and thus losing you sales.
Signifyd is great for those with very low risk tolerance who would like a set-and-forget solution, thanks to the automated nature and to taking responsibility for any chargebacks that do occur.
However, businesses who are looking to minimize false positives or for the ability to easily adjust their fraud prevention strategy will probably not be served well.
Riskified
Features & Use Cases
From its offices in Tel Aviv and New York, Riskified promises to stop fraud without disrupting the shopper's experience – just like it has been doing since 2013, for retailers and ecommerce brands which include Acer, Prada, Farfetch, and lastminute.com.
Advanced technologies including smart linking, machine learning, decision optimizing, data enrichment and behavior analysis come together in Riskified's platform, which is a holistic, end-to-end solution.
However, there are also standalone modules available, such as Policy Protect, for bonus abuse, and Account Secure, to prevent takeover attacks.
Priding itself in being technology-first, Riskified seeks to cover all bases in terms of ways to gain insight into shopper intentions and weed out bad actors.
IP analysis, fingerprinting, transaction BINs, behavior tracking and user authentication are all supported. There are industry presets and machine learning suggestions available, which helps new customers settle in smoothly.
Naturally, there are also some things that Riskified doesn't do as well as its users would like, judging by reviews. We have seen some complaints about too many false positives, as well as frequent requests for even more transparency in risk scoring.
Forter
Features & Use Cases
Forter is a startup on the rise, completing series F funding at $3 billion in May 2021, just six months after the previous round. It was founded in 2013 by Liron Damri and Alon Shemesh.
The fraud detection vendor began its life in Tel Aviv and is now headquartered in New York, promising data from "the largest network of online retailers" according to their website. These include Asos, Instacart, Deckers, and Nordstrom – in various verticals such as fashion/beauty, travel and electronics, but firmly focused on ecommerce.
Trust is a key concept in Forter's messaging, with Trusted Conversions, Trusted Authorization, Trusted Policies and Trusted Identities constituting separate products created to help online merchants make better decisions, which can also be deployed in unison. There is also Forter Element, which is built specifically for payment service providers.
One of Forter's strong suits is that it provides support for PSD2/3-D Secure requirements, which are the norm in many locales and not every fraud vendor satisfies at present.
There is also an eagerness to reduce the rate of false declines incurred, thus increasing authorizations by 1–3%, so that the merchant can enjoy more revenue while staying safe. Forter will also work fast to deliver automated decision making in under 400 milliseconds, thanks to machine learning.
As for the shortcomings of this platform, customers point out the lack of a blacklist, which would help with known attackers, and a desire to get more in-depth reporting and transparency, including the reasoning behind the algorithm's decisions.
Kount
Kount is a US-headquartered risk management, identity verification, and online authentication solution provider founded back in 2006.
One key differentiator is that they offer a 100% chargeback guarantee alongside other solutions often seen as standard for other anti-fraud software nowadays including machine learning, device fingerprinting, and IP & geolocation surveillance.
All this is built on top of its Identity Trust Global Network which holds 13 years worth of data, 32 billion annual interactions across 250 countries, 75+ industries, and 50+ payment processors and card networks.
Their offering breaks into four key products: Command, Central, Control, alongside the chargeback guarantee.
Control is their complete end-to-end product that automates decisions based on self-imposed thresholds and its identity network. Central is similar in this nature but focused on PSPs that can be offered to their entire merchant portfolio.
Kount Control combines its machine learning & device intelligence solutions with multi-factor authentication to help protect customer onboarding and stop account takeovers (ATO).
To date, they work with more than 9,000 global brands including the likes of New Balance, US Polo ASSN, Wyze Labs, and Staples.
How to Choose a ClearSale Alternative
When you set out to choose a ClearSale alternative, remember that "best" is subjective.
First, speak to your team and make sure you have identified all the pain points that are relevant to your business. Look at previous cases of fraud that have affected you.
Make sure you ask the representatives of any vendor you have identified as a candidate exactly what they could have done to prevent these.
Hopefully, the breakdown of the six solutions we've presented above is a good starting point.
FAQ for ClearSale Alternatives
Is there a cheaper alternative to ClearSale?
ClearSale offers two different products and pricing models, so it is not as easy to compare to other solutions as one might hope. You'd be advised to first identify the products that may be relevant to you and then ask for specific quotations from each vendor, for the comparison to truly be accurate.
Where can I learn more about ClearSale?
ClearSale's official website is naturally a good place to start. You can also read our comparison of SEON and ClearSale's technology and solutions, as well as visit trusted review websites  – G2 or Gartner, for example. 
Further Reading
Learn more about:
Browser Fingerprinting | Data Enrichment | Device Fingerprinting | Fraud Detection API | Fraud Detection Machine Learning | Fraud Detection & Prevention
Try our free tools:
BIN Lookup | IP Lookup | Reverse Email Lookup | Reverse Phone Lookup | Social Media Lookup
SEON Team
---
Get our latest newsletter
Join over 6000 companies in getting the latest fraud-fighting tips